The CAS is excited to introduce our Admissions Transformation Plan (ATP), a high-level blueprint of key milestones to evolve and enhance our credentialing program for the future. We are committed to ensuring that our members have the professional knowledge and expertise to meet market demands, and with the actuarial profession changing at an accelerated pace, we are transforming how we prepare our members for the future.
Image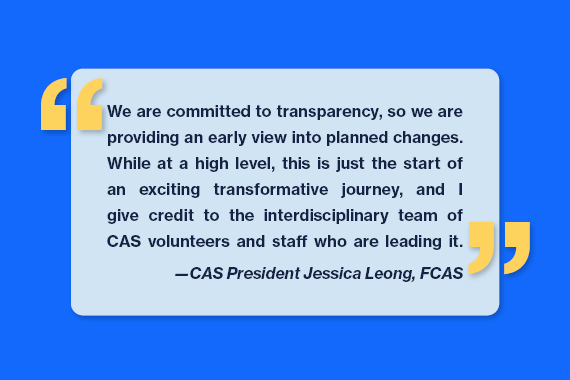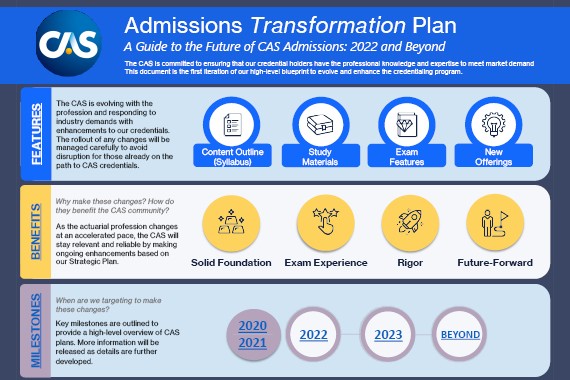 CAS Admissions Transformation Plan
This interactive document outlines the key features, benefits, and milestones of the CAS admissions transformation, and will evolve over time. Be sure to click through the document to see more details on each aspect of the plan. (The file was last updated 9/30/21.)
"Our plan outlines how we'll achieve our strategic goals – specifically the Building Skills for the Future pillar of the Strategic Plan. I'm thrilled with the new direction we are taking to evolve our credentials to reflect the evolving actuarial profession."

-- Victor Carter-Bey, CAS CEO
Transformation News Updates
Admission Transformation, CAS News, Exams & Admissions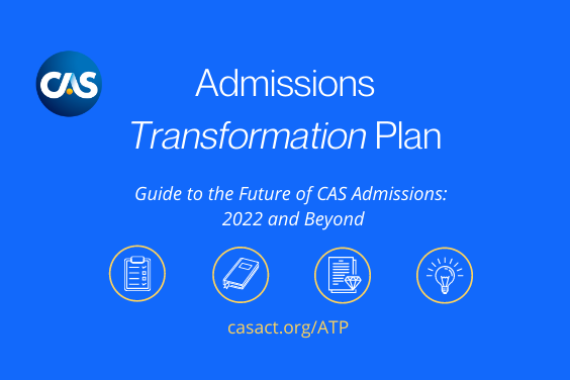 Admission Transformation, CAS News, Exams & Admissions, Membership / Notices to Members
As the ATP is a multi-year plan, with strategy and executional tactics continuing to be developed, there remains an on-going opportunity for stakeholder feedback.