Admissions Transformation
Exams & Admissions
Membership / Notices to Members
Registration Open for New CAS Online Course: Introduction to Data & Analytics Course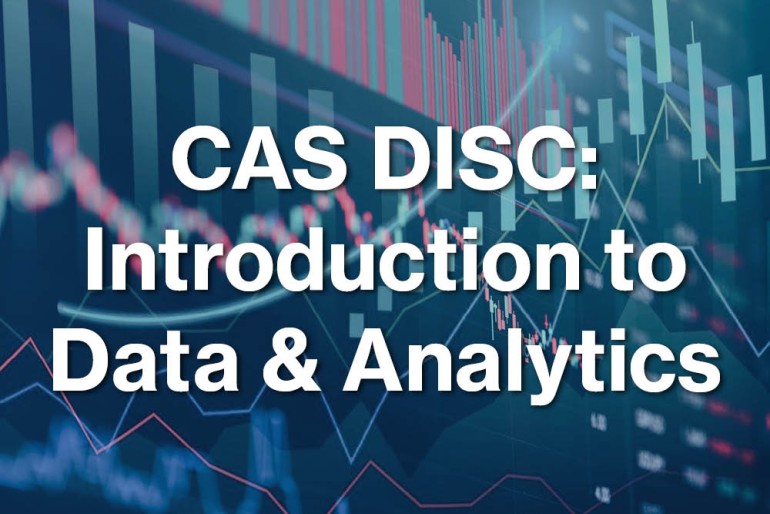 The CAS in partnership with The Institutes is excited to announce that registration for the new Online Course, Introduction to Data & Analytics is now open! Students and candidates can register and access the course through The Institutes website. The first window available for candidates to take the exam will be January 15, 2023 – March 15, 2023.
Along with the release of this new course, the CAS has renamed the online courses to Data & Insurance Series Courses (DISCs). Candidates and members will see both names used for this sitting as we work to transition the course materials to the new naming convention. The reason for the name change is to remove sequential numbering and encourage candidates to take the courses in the order that works best for them.  The full new names are:
As previously announced, the CAS is offering a new course in partnership with the Institutes that will provide candidates with P&C industry knowledge and data skills that will prepare them with job-ready capabilities for entry-level actuarial positions.
Prior to making the decision to add this online course, the CAS Board of Directors sought the input of a variety of stakeholders in considering the changes to the preliminary requirements. We heard that employers view the first two exams as an objective metric to hire candidates but would like candidates to have more knowledge of the P&C insurance industry and familiarity with data concepts when they begin entry level jobs. With that in mind, the CAS encourages candidates to sit for CAS online courses after meeting the Exam 1 and 2 requirements. New P&C hires will find that the online courses give them a valuable knowledge base for their work, while university students and those seeking employment will find that completing the online courses will make them more attractive to prospective P&C employers. Candidates that already have credit for Exam 3F do not need to sit for this course.
Those interested in taking the new Introduction to Data & Analytics Online Course should review the syllabus on the Online Courses landing page.
Students and candidates who are not currently employed full-time are eligible to receive a 50% discount on all of the CAS DISCs. Please note:
Students must complete the discount form located on the CAS Student Central website. CAS Student Central Membership is a requirement to receive the discount.
Candidates that are not students and are not currently employed full-time, should fill out the discount form on the CAS website.
We invite you to email any questions or comments about CAS credentialing requirements to CAS Administrative and Customer Support at casexams@casact.org.