The CAS provides continuing education through live events and online content to actuaries and other professionals interested in property, casualty, and similar risk exposures. CAS works to create programs to enhance an actuary's skills and knowledge and help experienced professionals keep up to date on advances in the field.
Members are encouraged to review the complete CAS Continuing Education Policy for details on the CE requirements. A set of Frequently Asked Questions (FAQs) are included following the Policy that should answer questions you may have about the Policy.
Note - New CAS Associates providing actuarial services in the United States: Please go to Section 2.2 of the U.S. Qualification Standards to understand your compliance requirements.
ATTN U.S. ACTUARIES: The American Academy of Actuaries has prepared a clear, concise infographic summarizing the U.S. Qualification Standards.
Key Elements of the CAS Continuing Education Policy:
CE Policy Rules

Members must certify compliance at the end of each calendar year. If you are practicing as an actuary, then be sure to indicate the proper attestation year as the year during which you are able to practice after having met the prior years' necessary CE/CPD requirements. Members who do not certify their compliance or who do not indicate they are not providing actuarial services by February 1 of the year following the December 31 compliance attestation deadline will be shown as Non-Compliant under the Continuing Education heading of the membership directory on the CAS website.

Appointed Actuaries

CAS actuaries who meet the qualification requirements to be an appointed actuary have an attestation option on the CAS website. In addition to the "I have complied" option, there is a "I Have Complied – NAIC Statement of Actuarial Opinion" option which indicates you have complied with the American Academy of Actuaries Specific Qualification Standard for the Statement of Actuarial Opinion, NAIC Property and Casualty Annual Statement. Starting with the 2020 Actuarial Opinion instructions, this attestation is required for appointed actuaries. Members who select the "I Have Complied – NAIC Statement of Actuarial Opinion" should always chose "US Qualification Standard" as their method of qualification. Members who are not currently working as an appointed actuary but feel they may be in the future may select this option if they meet the qualification standard.
In addition to the attestation option, appointed actuaries have additional NAIC requirements for their CE logs. These new requirements are effective with your 2020 documentation. A sample logging sheet for your CE is included below under Resources.

Compliance Status/Audits

The CE Heading shows members as: Compliant, Compliant – NAIC Statement of Actuarial Opinion, Not Currently Providing Actuarial Services, or Non-Compliant.

Which CE Policy to Follow

Members must follow the most recent version of the CAS CE Policy included above. No other versions are acceptable.
* If the actuarial organization to which you belong is a member of the IAA but its CE/CPD standards are not listed as a Recognized National Standard, you may request your organization to contact us to be considered. Please have that organization submit with its request an official English-language version of the standard.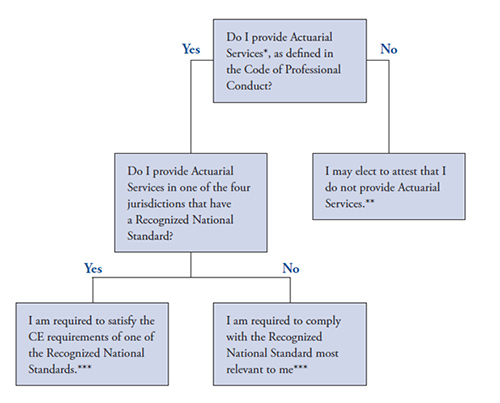 * "Actuarial Services" are Professional services provided to a Principal by an individual acting in the capacity of an actuary. Such services include the rendering of advice, recommendations, findings, or opinions based upon actuarial considerations.
** Care should be taken since a member making this election may not provide such Services during that year.
*** Recognized National Standards include:
Note that if providing Actuarial Services in more than one jurisdiction, care should be taken to meet the relevant qualification standards in each jurisdiction that applies.
CE Resources
Related Articles from the Actuarial Review