Leadership Resources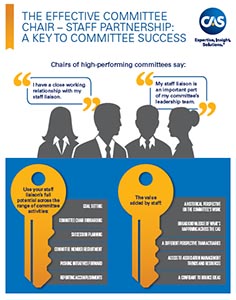 The Best Practices for Committee Chairpersons webinar is designed help chairs get off to a strong start in their roles as volunteer leaders for the CAS. Whether you are a seasoned chairperson or just starting a new leadership role, we strongly encourage all CAS committee chairs to view this recorded webinar.
This presentation was designed to give chairs, vice chairs, regional affiliate board members, and other CAS volunteer leaders a high level summary of the mission, structure, and how it works as an organization.
The CAS Leadership Development Committee (LDC) is pleased to offer two online courses in partnership with the American Chemical Society (ACS): Running Productive Meetings and Managing Projects Effectively. Representatives of the LDC evaluated both of these courses and found them relevant to CAS volunteer leadership roles as well as their work on the job
The Inventory of Knowledge and Skills Expectations was developed by the CAS Leadership Development Committee to tell you what it takes to be a CAS leader. The Inventory summarizes the characteristics that have been observed in successful CAS leaders, providing members a roadmap for volunteer development. This allows current volunteers to assess strengths and weaknesses critical to professional development and to the CAS.
Leadership Development Committee Newsletters