CAS Research Papers are funded, peer-reviewed, in-depth works focusing on important topics within property-casualty actuarial practice. Funding for CAS Research Papers comes from CAS member dues, individual grants and other sources. Topics are solicited through a variety of means including CAS committees and formal requests for proposals.
CAS Research Papers fulfill the goal of creating an important addition to the existing body of CAS literature and give CAS members access to relevant information and resources applicable to their work, which can help advance their careers.
Research Briefs
COVID-19: The Property-Casualty Perspective
By Brian Fannin
The world is going through an extraordinary event. Since it first appeared in Wuhan, China, in late 2019 ("First Covid-19 Case Happened in November, China Government Records Show - Report" 2020), the coronavirus has spread rapidly to most of the world's population. Indeed, one of the difficulties of writing an article like this is to keep up with the pace of change. An earlier draft had included specific references to the current number of countries and individuals who had been affected. It took only a few days for those numbers to be badly short of the mark.
On Insurability and Transfer of Pandemic Business Interruption Risk
By Aditya Khanna, FCAS; Brian A. Fannin, ACAS, CSPA; and Tim Wei, FCAS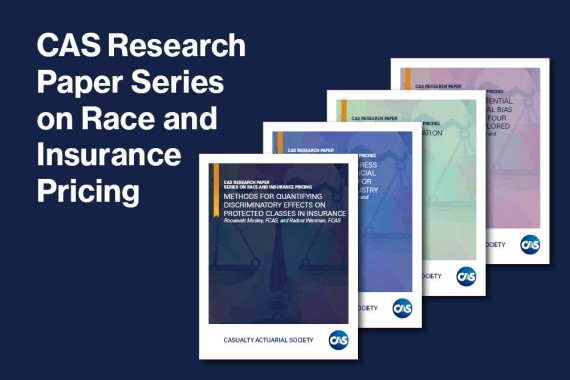 Series on Race and Insurance Pricing
The Casualty Actuarial Society is committed to diversity, equity and inclusion in all aspects of actuarial work and has produced four CAS Research Papers to help guide the insurance industry toward proactive, quantitative solutions to address potential racial bias in insurance pricing. Through these research papers, we aim to inspire and generate discussions about potential racial bias across all areas of insurance pricing and to encourage actuaries to lead the conversations with other stakeholders on this topic.