CAS News
Membership / Notices to Members
Press Releases
Casualty Actuarial Society Surpasses 10,000 Member Milestone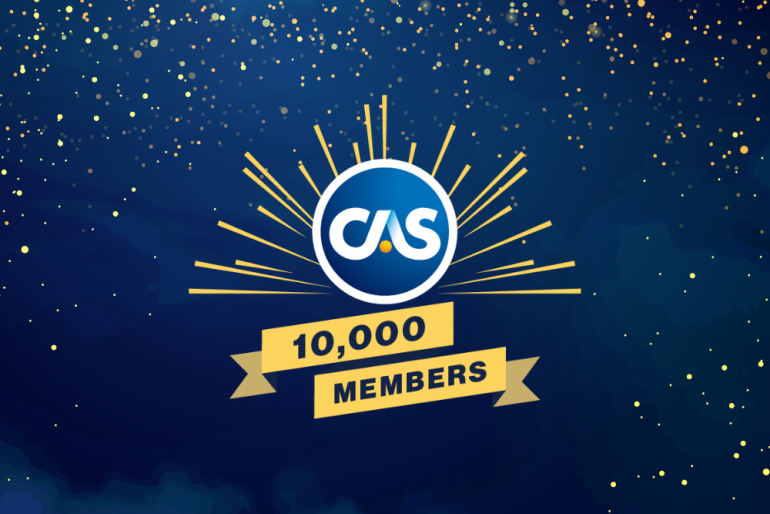 Leading Credentialing Organization Expands as
Members Tackle Emerging Issues such as Cyber, Climate Risk and Inflation
The Casualty Actuarial Society (CAS) reached the 10,000 member milestone this year with its newest class of Fellows and Associates, with membership consisting of 6,676 Fellows, 3,340 Associates, and 33 Affiliate members, for a total of 10,049 active members. Founded in 1914, the CAS is the world's only actuarial organization focused exclusively on property/casualty risks (known globally as general insurance) and is the third-largest actuarial organization in the world among those who credential actuaries through examinations. Through its rigorous examination process, extensive professional education offerings, and pioneering research, the CAS has been setting the standard of expertise, credibility, and professional integrity for the property and casualty (P&C) actuarial profession for over 100 years.
Members of the CAS continue to be sought after globally for their insights and ability to apply analytics to solve insurance and risk management problems; CAS actuaries are helping companies harness new data, take advantage of innovative methodologies and leverage advances in technology, including artificial intelligence. Demand for actuarial expertise is also evident through the organization's 5.7% average annual membership growth over the past decade.
In addition to offering more than 100 continuing education opportunities each year, the CAS remains at the forefront of actuarial practice through its cutting-edge research to advance the body of knowledge on emerging issues such as rising inflation, cyber risk and climate risk. Last year the CAS also followed through on its commitment to diversity, equity and inclusion in actuarial work by publishing its CAS Research Paper Series on Race and Insurance Pricing to guide the insurance industry toward proactive, quantitative solutions to address potential racial bias in insurance pricing.
The CAS remains strongly dedicated to fostering the next generation of property/casualty actuaries through programs like CAS Student Central, serving 7,500 student members at over 700 schools worldwide; Be An Actuary, a program targeting middle and high school students; and the CAS Trust Scholarship program for university students.
"Reaching the milestone of 10,000 members is a profound moment for our organization, and it symbolizes the remarkable impact that actuaries have on society," said CAS President Roosevelt Mosley, FCAS, CSPA. "The CAS was formed to help usher in a new era of addressing societal risks, and more than 100 years later, we remain as relevant as ever. I am inspired by the future of the organization and the knowledge that CAS members' work has contributed to the betterment of our society."
"This milestone represents the transformations we have undertaken to meet the demands of an industry that is constantly changing," said Victor Carter-Bey, CAS CEO. "We provide our members with cutting-edge knowledge and a platform for continuous growth, while always staying true to our mission of excellence in P&C education, research and credentialing. As we grow from 10,000 members and beyond, we will continue innovating and adapting to provide our members with the skills, resources, and opportunities they need to solve pressing risk management problems."
The CAS plans to formally recognize its 10,000 member milestone at the CAS Annual Meeting, taking place November 5-8, 2023 in Los Angeles, CA. In the meantime, the organization will be sharing relevant content on its social platforms with the hashtag #CAS10K.