Membership / Notices to Members
University Programs
2020 CAS University Award Program, Meet the Winners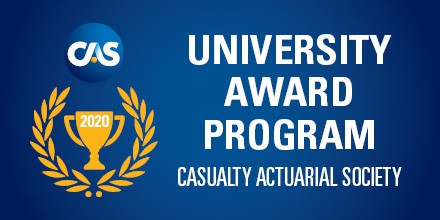 The Casualty Actuarial Society (CAS) selected four universities as recipients of the 2020 CAS University Award, an honor created to celebrate universities that share our commitment to fostering the development of the next generation of property and casualty actuaries.
As announced in June, the schools honored in the program's fifth year include McMaster University, Middle Tennessee State University, Temple University, and University of Illinois at Urbana-Champaign.
The selection process is extremely competitive, with nearly 40 schools worldwide having sought recognition through this program. Winners of the 2020 CAS University Award Program were determined by a panel of judges from companies across the property and casualty insurance industry.
The four winning schools will each receive a $5,000 monetary award to further enhance their programs, and they will be recognized at the 2020 CAS Annual Meeting, taking place November 10-12.
Meet the 2020 CAS University Award Winners and learn about the innovative ways they are exposing their students to the property casualty insurance industry!