CAS News
Membership / Notices to Members
Publications & Research
Reminder: Apply to the 2022 CAS Hacktuary Challenge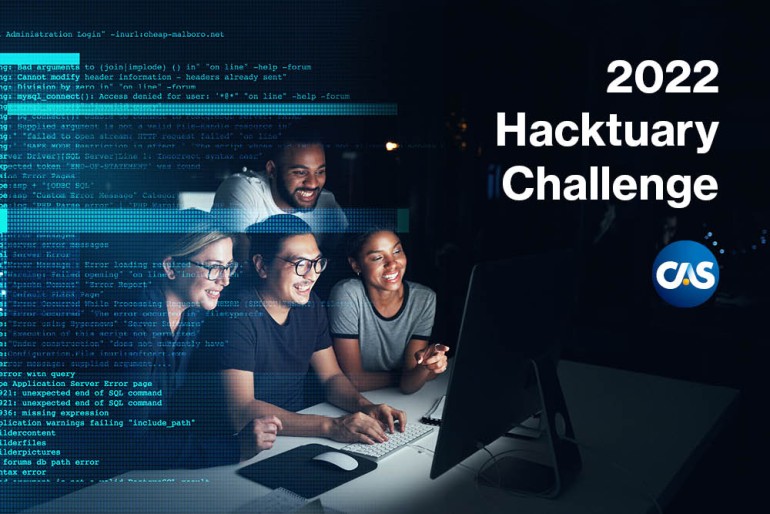 Reminder: The deadline for the 2022 CAS Hacktuary Challenge is September 30, 2022. Enter for your chance to win the prize of $15,000. Entrants should complete the interest form below.
Actuary /ak(t)SHəˌwerē/ noun
A professional who quantifies risk, particularly in the area of insurance
A statistical discipline that focuses on financial uncertainties
Hacktuary /hak(t)SHəˌwerē/ noun
An actuary who is particularly skilled at the development of novel and technologically innovative solutions for risk engineering
An actuary with strong programming skills who deploys them in clever ways
Familiar reference to a contest sponsored by the Casualty Actuarial Society (CAS) that supports the creation of risk engineering solutions of benefit to the insurance industry and the public
Overview
The CAS is pleased to announce its inaugural "Hacktuary Challenge," a contest designed to showcase the actuarial skill set in developing novel risk engineering solutions. The challenge offers a prize of $15,000 to the individual or group who develop an application that utilizes actuarial concepts to solve a pressing risk management problem related to personal auto insurance. The target platform of the application is open — it may be deployed as a mobile app, an interactive web site, a desktop application, or some other means. The only deployment criteria are that it be publicly available and feature interactive elements.
Although focused on personal auto risk, the challenge is open to a wide range of ideas on this topic. Potential applications include:
A mobile app that lets a user search locations, times, or days with heightened accident frequency.
A searchable database of driver-assist features.
A premium cost comparison with theoretical deductible amounts.
The Process
Interested parties should respond to this survey to indicate their interest in participation.
Entrants will be required to submit a link to their application along with a cover note describing its development to CAS Research Actuary Brian Fannin at bfannin@casact.org.
Entrants will be assessed by a panel of judges. Judges will be nominated by the CAS research council.
The CAS expects that submissions are of a quality consistent with what the public has come to expect from actuaries and analysts working in the insurance industry. In the event that no submissions are deemed acceptable, and at the sole discretion of the CAS, no prize may be awarded. In that event, the CAS may elect for the prize fund to be rolled over and combined with the fund available for the 2023 contest.
All entries must be submitted by September 30th, 2022. Winner(s) will be announced at the CAS Annual Meeting in November.
Requirements
All code for the application must be made publicly available on the CAS GitHub site. Repos should use the Mozilla Public License version 2.0.
Only publicly available sources of data may be used. This also applies to any data sources used to calibrate model parameters.
Any model calibration or parameter estimation techniques that are used must be published.
The application must be deployed and accessible via the internet or mobile app provider without the need for a user to install any additional tools or utilities.
Participants are responsible for the deployment of the application. A resource list is available at the conclusion of this announcement.
The Scoring Criteria
Utility of the application to the general public to manage their personal auto risk.
Quality of the user experience and user interface design.
Use of concepts that illustrate quantitative risk analysis, especially in the fields of actuarial science and risk engineering.
Novelty of approach.
Please see here for complete scoring rubric.
Suggested Resources
Applicants need not feel constrained by these suggestions and are free to use whatever platform and data they feel will be most useful. Further, note that the CAS has no financial incentive to promote any of the commercial providers listed below.
Tech platform
Data sources
For questions about the contest, please contact CAS Research Actuary Brian Fannin at bfannin@casact.org.