Admission Transformation
CAS News
Exams & Admissions
Membership / Notices to Members
Casualty Actuarial Society Introduces Its Admissions Transformation Plan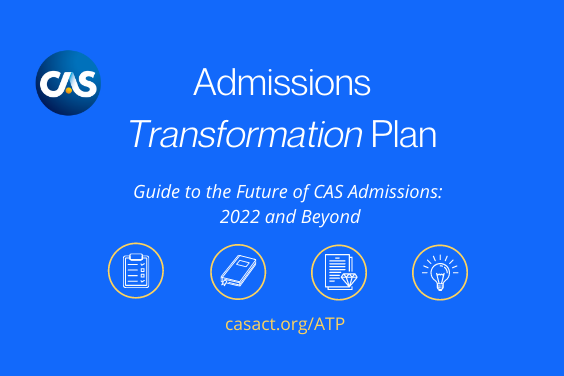 Guide to the Future of CAS Admissions: 2022 and Beyond
The CAS is excited to introduce our Admissions Transformation Plan (ATP) , the first iteration of our high-level blueprint of key milestones to evolve and enhance our credentialing program for the future. We are committed to ensuring that our members have the professional knowledge and expertise to meet market demands, and with the actuarial profession changing at an accelerated pace, we are transforming how we prepare our members for the future.
The ATP is encompassed in a series of infographics outlining the features, benefits and milestones of the transformation, and it lives in an information hub on the CAS website. The ATP also includes a glossary of terms, and additional resources and announcements will be added over time.
"Our plan outlines how we'll achieve our strategic goals – specifically the Building Skills for the Future pillar of the Strategic Plan," commented Victor Carter-Bey, CAS CEO. "I'm thrilled with the new direction we are taking to evolve our credentials to reflect the evolving actuarial profession."
"We are committed to transparency, so we are providing an early view into planned changes," said CAS president Jessica Leong. "While at a high level, this is just the start of an exciting transformative journey, and I give credit to the interdisciplinary team of CAS volunteers and staff who are leading it."
The intent with releasing the ATP at this time is to minimize the disruptions to those on a path to CAS credentials. The ATP milestones in 2022 represent announcements of additional details, including transition plans, as opposed to the implementation of changes. The first key milestone is an announcement about preliminary exam requirements. This is a high-priority item and we expect to communicate details no later than early next year. We are aiming to provide as much advance notice as possible to those on the CAS credential pathway, with adjustments to requirements not beginning until 2023.
Because we're sharing information at such an early phase of the process, it is natural that the information is at a high level. We are working in an agile way and this plan will continue to iterate, with more details added over time. It is critical for any credential to reflect changes in the profession it serves, so this approach allows us to be responsive and adaptable.
The ATP has benefited from vetting with CAS leadership, admissions volunteers, candidates, employers, and others prior to its release. However, as the ATP is a multi-year plan, with strategy and executional tactics continuing to be developed, there remains an on-going opportunity for stakeholder feedback through this transformational journey. We invite anyone who would like to share feedback and perspectives to submit their input to casatp@casact.org.
Building on a solid foundation of over one hundred years of credentialing property/casualty actuaries, the CAS is heading towards an exciting Envisioned Future, based on our Strategic Plan. The evolution outlined in the ATP is a major step towards realizing those strategic goals. With the support and involvement of a dedicated community of volunteers, our future state will be an integration of our existing best practices into a professional testing model that will strengthen the value of our members' credentials and uphold our position as the leading organization for credentialing property/casualty actuaries. We look forward to sharing additional details of changes planned as part of the ATP in the coming months and years.