CAS Releases New Guide to Economic Scenario Generators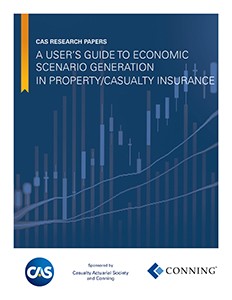 The Casualty Actuarial Society recently published a new piece of research for members and risk management experts whose work could benefit from the use of economic scenario generators (ESGs). A User's Guide to Economic Scenario Generation in Property/Casualty Insurance provides a basic guide to ESGs and has useful implications for insurance practitioners in the fields of enterprise risk management, capital modeling, asset liability management, finance and valuation. This is the first research paper of its kind in the property-casualty insurance space.

An ESG is a computer-based model that provides simulated examples of possible future values of various economic and financial variables. The paper provides general information on the nature of ESGs, discusses essential features of a successful generator, and provides guidance on stochastic processes and modeling of certain economic and financial variables.

"This paper serves as a comprehensive guide to economic scenario generators, with a unique emphasis on applications for the property-casualty insurance industry," said Brian Fannin, ACAS, CSPA, CAS research actuary. "Actuaries and other professionals can learn more about financial market model specifications, model calibration, model validation and other essential features of a good ESG."

The paper is authored by Conning, a leading global provider of risk and capital management software and solutions for the insurance industry, as part of the CAS Research Paper series. CAS Research Papers are funded, peer-reviewed, in-depth works focusing on important topics within property-casualty actuarial practice. These papers give CAS members access to relevant information and resources applicable to their work, which can help advance their careers. Funding for CAS Research Papers comes from CAS member dues, individual grants and other sources. For additional information, visit the CAS Research Papers page.