Admissions Transformation
CAS News
Exams & Admissions
CAS Partners with Industry-Leading Psychometric Experts to Propel Next Phase of Admissions Transformation Plan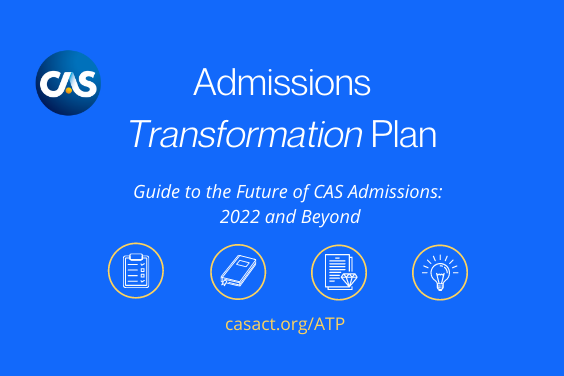 The Casualty Actuarial Society (CAS) has established a partnership with ACS Ventures to fulfill the next phase of its Admissions Transformation Plan (ATP). ACS, an industry leader in testing and credentialing, has provided its psychometric expertise to a wide variety of state, regional, national, and international education and credentialing testing programs. Psychometrics is the science and practice of testing and measurement, and the ACS partnership provides CAS with best practices from the field to further enhance CAS credentialing exams' validity and reliability, enabling the CAS to evolve its exam development while maintaining the same level of rigor.
The CAS Admissions Transformation Plan (ATP) provides the key, high-level milestones that will evolve and enhance the CAS credentialing program for the future. The evolution outlined in the ATP is a major step towards realizing the CAS Envisioned Future, as described in the CAS Strategic Plan.
"We've come to know ACS over the past year as they have conducted listening sessions and surveys, each targeted at different volunteer groups. It was important to us that ACS get input from members of the Syllabus and Exam Working Group, Board of Directors, Employer Advisory Council, Candidate Advocate Working Group, and CAS staff to understand what is working well and where we can improve. ACS now has a deep understanding of the CAS and our unique credentials, as well as the value our credentials hold for our members and employers," said William Wilder, FCAS, Vice President-Admissions. 
Together with the continued support and involvement of a dedicated community of volunteers, the ACS partnership will leverage best practices to develop a re-envisioned professional certification model that will strengthen the value of CAS members' credentials and uphold CAS's position as the leading organization for credentialing property/casualty actuaries.
Get to know ACS through this video interview between CAS Staff Actuary, Ken Williams, FCAS, and ACS psychometricians Chad Buckendahl and Susan Davis-Becker.
To learn more about the ATP and how the CAS is transforming how it prepares members for the future, visit the dedicated ATP webpage.
---
About the Casualty Actuarial Society
The Casualty Actuarial Society (CAS) is a leading international organization for credentialing and professional education. Founded in 1914, the CAS is the world's only actuarial organization focused exclusively on property and casualty risks and serves over 9,600 members worldwide. Professionals educated by the CAS empower business and government to make well-informed strategic, financial and operational decisions. Learn more at casact.org.
ACS was established to address a need in the assessment community for design, evaluation, operational support, and quality assurance. These needs align with the founders' core capabilities and allow them to apply their experiences and knowledge of assessment policy and practice in the education, credentialing, and workforce sectors. The ACS team is committed to providing practical solutions that help organizations ensure the validity, reliability, and fairness of their assessment programs.
With more than a century of combined experience, ACS Ventures, LLC (ACS) is an industry leader in testing and credentialing. Our staff members consult directly with state, regional, national, and international education, and credentialing testing programs. ACS has designed and led numerous test development and validation activities, conducted alignment and standard setting studies for a wide variety of clients, and has continuously provided actionable and appropriate study designs to program leaders on various testing related issues.