CAS News
Diversity
Membership / Notices to Members
Press Releases
CAS Named Diversity and Inclusion Industry Champion of the Year by Gamma Iota Sigma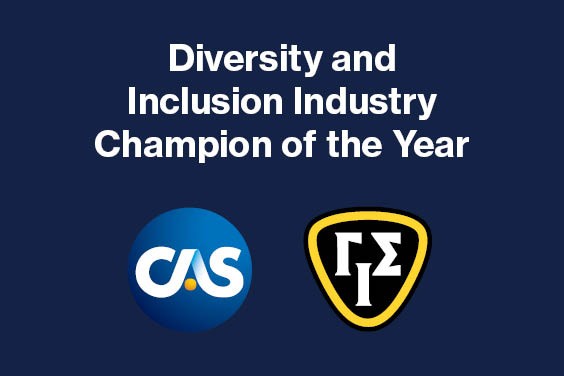 In recognition of outstanding leadership and efforts within the insurance industry developing solutions for authenticity, inclusion and diversity, the Casualty Actuarial Society (CAS) has been honored with the 2022 Diversity and Inclusion Industry Champion of the Year award from Gamma Iota Sigma (GIS). GIS is the industry's premier collegiate talent pipeline, serving over 5,000 students and 25,000 alumni from a growing network of over 100 colleges and universities throughout North America.
"We are so grateful for everything the Casualty Actuarial Society does to support diversity and inclusion across the actuarial profession and the broader insurance industry," said Gamma Iota Sigma Executive Director Grace Grant. "CAS is a valuable partner to GIS members and alumni, and its continued support is critical in fulfilling our mission to promote and sustain student interest in the industry and ultimately grow and diversify the insurance industry's talent pipeline."
The award recognizes a demonstrated commitment to advancing the future of insurance through the support of a diverse talent pipeline. The inaugural GIS Diversity and Inclusion Industry Champion of the Year award was presented in 2021 to global data analytics provider Verisk.
The CAS serves as both a Sustaining Partner of GIS and a longstanding GIS Annual Conference Platinum Sponsor. The CAS also supports GammaSAID (Solutions for Authenticity, Inclusion, and Diversity), GIS's student-centered diversity, equity, and inclusion (DE&I) strategy to drive long-term insurance industry talent pool growth, diversification, and accessibility.
The CAS has made a significant commitment to DE&I over the past year, with the organization's board of directors adopting its current strategic approach to DE&I in February 2022. This plan states that the CAS is committed to fostering a diverse and inclusive actuarial community in which all members are encouraged to contribute to the advancement of the profession. The plan outlines eight tactics that support the CAS' DE&I efforts.
"The CAS is proud to be recognized for our efforts over the past year in developing a more diverse and inclusive actuarial talent pipeline," said Victor Carter-Bey, CAS CEO. "We plan to continue our commitment with not just words but actions, as we implement concrete tactics to move the CAS and other insurance industry stakeholders forward to bridge DE&I gaps."
CAS activities in 2022 that were recognized in consideration of the award included:
For more information about the CAS and its diversity efforts, visit casact.org/about/diversity-equity-inclusion.