CAS News
Membership / Notices to Members
Press Releases
University Programs
CAS Announces 2021 CAS University Award Winners
Image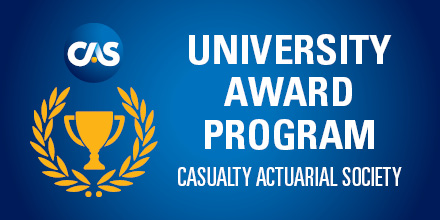 2021 Honorees include Arizona State University, Brigham Young University, Georgia State University, University of New South Wales
Arlington, VA – The Casualty Actuarial Society (CAS) is pleased to announce the winners of the 2021 CAS University Award Program. This year's honorees represent a diverse set of schools, including two-time winner Arizona State University, and first-time recipients Brigham Young University, Georgia State University, and the University of New South Wales, the second school outside North America to be recognized since the program's inception in 2016. The four universities were selected by a panel of judges among a competitive field of applicants for the innovative and exemplary ways they are preparing students for a career in the property and casualty insurance industry.
The CAS University Award Program is an annual program designed to celebrate and honor universities that share our commitment to fostering the development of the next generation of property and casualty actuaries. The selection process is extremely competitive, with 40 universities worldwide having sought recognition through this program.
"While universities have been faced with unprecedented challenges this past year, our panel of judges was impressed to see that the 2021 round of winners were able to demonstrate an extraordinary commitment to incorporating property and casualty concepts and innovations into their curriculum, research, and industry engagement, surmounting the unique circumstances," said Anson Lo a Fellow of the CAS who chairs the CAS University Award Program. 
"In fact, they even shared ways in which they'd incorporated the pandemic into their curriculum in a new section added to this year's application. I congratulate this year's winners and applicants for their continued efforts to promote property and casualty education."
The four winning schools will each receive a $5,000 monetary award to further enhance their actuarial programs, and they will be recognized at the 2021 CAS Annual Meeting in November, where they will also present a session highlighting the innovations they've incorporated into their programs. The CAS will be providing details of the initiatives and programs that helped this year's winners stand apart through upcoming articles and web postings, to facilitate the sharing of ideas within the academic community and across the insurance industry.
Past honorees include McMaster University, Middle Tennessee State University, Temple University, University of Illinois at Urbana-Champaign in 2020; Illinois State University, University of Connecticut, University of Toronto in 2019; Arizona State University, Renmin University of China, and University of Texas at Austin in 2018; Ball State University, St. John's University, and University of Wisconsin-Madison in 2017; and Illinois State University, University of California, Santa Barbara, University of Connecticut, and University of Illinois at Urbana-Champaign in 2016. The CAS University Engagement Committee has a three-year waiting period before winners of the CAS University Award may reapply for recognition.
About the Casualty Actuarial Society
The Casualty Actuarial Society (CAS) is a leading international organization for credentialing and professional education. Founded in 1914, the CAS is the world's only actuarial organization focused exclusively on property and casualty risks and serves 9,000 members worldwide. Professionals educated by the CAS empower business and government to make well-informed strategic, financial and operational decisions. Learn more at casact.org.