2017 CAS UNIVERSITY AWARD WINNER - UNIVERSITY OF WISCONSIN - MADISON

The actuarial science program at University of Wisconsin – Madison, led by Professors Jed Frees, Margie Rosenberg, and Peng Shi, consists of 11 faculty members and 421 actuarial students.
UW–Madison was recognized as a 2017 award winner for initiatives such as:
Opportunities for students to meet with many property and casualty companies in a variety of settings, from formal presentations to sharing meals and simulating the management of an insurance company.
Contributions that reach beyond its campus, including faculty members who serve as editors for various insurance journals and have published a number of recognized property and casualty focused papers.
Development of a Technology Enhanced Learning program that includes web-based videos that provide support for candidates of CAS Exams 1, 2, 3F and 4 and were produced by students. The videos are available online, and, by UW's estimates, have been watched by over 90,000 people from 140 different countries.
"The University of Wisconsin – Madison is honored to be recognized by the CAS. We are proud of our actuarial program and actuarial students we have here, and are thrilled to have the CAS confirm the strength of our program to the wider world."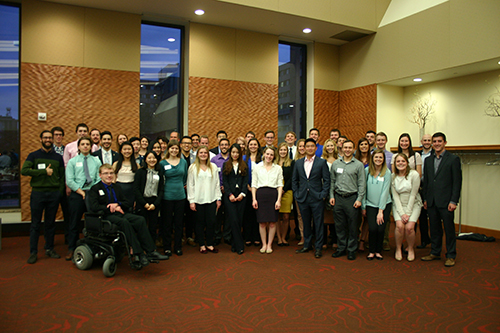 UW Madison Actuarial Club Graduates - Spring 2017