2016 CAS University Award Winner
The University of Illinois at Urbana-Champaign

The University of Illinois at Urbana-Champaign has 430 students in its actuarial science program, with two full-time faculty members, Professor Runhuan Feng and Professor Shu Li, teaching actuarial science courses exclusively, and several other faculty members across the Departments of Mathematics, Statistics and Finance dedicated to the teaching of the program.
The University of Illinois at Urbana- Champaign was recognized as a 2016 award winner for initiatives such as:
Robust property and casualty courses and topics incorporated into actuarial science curriculum, including courses entitled Casualty Actuarial Science and Property and Liability Insurance, as well as courses that cover material on CAS Exam S.
High quality research work in the area of property and casualty actuarial science produced by numerous faculty members, as well as opportunities for students to participate in research with industry partners. These include the Axis Student Challenge organized by Axis Capital, an insurance and reinsurance company, and internships with State Farm to work at their research office in Champaign.
Strong connections to property and casualty industry, as reflected by visits in fall 2015 by 15 property and casualty companies, as well as an impressive partnership with State Farm Insurance that encompasses internships, scholarships, and research opportunities.
"This is a prestigious award and it is an honor to be recognized by the CAS for the strength and reputation of our world-class actuarial program, particularly in the property-casualty area. It is not just recognition of the Illinois Actuarial Science Program, but also for the close partnership and engagement with the State Farm Research Center and our other industrial partners. We will continue striving for providing the best educational experience to our students with innovative teaching methods and new technology to meet the evolving needs of the actuarial profession."
Runhuan Feng
Interim Director, Actuarial Science Program
The University of Illinois at Urbana-Champaign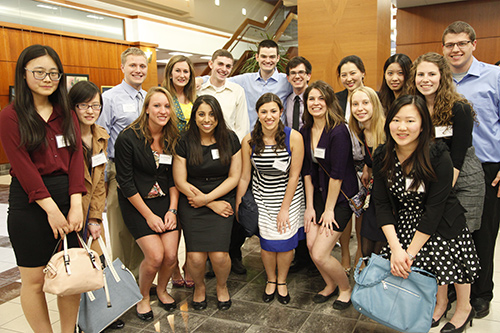 University of Illinois at Urbana-Champaign Actuarial Science Club Members.