2016 University of CAS Award Winner
University of Connecticut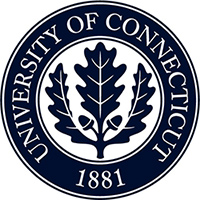 The University of Connecticut actuarial science program, led by director James Trimble, serves 450 actuarial students taught by 6-full-time faculty in actuarial science and 12 adjunct professors.
The 40 year old program was recognized as a 2016 award winner for initiatives such as:
Offering property and casualty courses on Ratemaking, Loss Models, and Risk Theory, among others emphasizing property and casualty topics, case studies, and models.
Industry engagement through regular attendance by faculty and actuarial students at meetings held by the local CAS regional affiliate, Casualty Actuaries of New England (CANE), with the goal of exposing undecided students to property and casualty actuarial work. Other engagement examples include property and casualty representation on the actuarial science program advisory board and a strong internship program supported by all major P&C insurers, consulting, and audit firms in New England.
Property and casualty research opportunities for actuarial students in partnership with industry professionals and commitment by faculty members to advancing casualty actuarial science by publishing papers in this area.
"The University of Connecticut is most honored to be among the first to receive the Casualty Actuarial Society University Award, and we wish to thank the CAS and congratulate the other three 2016 University Award recipients. We at the University of Connecticut have been fortunate to partner with the Casualty Actuarial Society and our industry partners, local and national, to educate and assist students on Property and Casualty Actuarial Science topics. These partnerships have provided opportunities for students to learn more about the Property and Casualty Actuarial profession and helped our students to secure internships and full-time roles within the Property and Casualty industry. We are pleased that these efforts are appreciated and recognized, and we will use our award to further such efforts."
James Trimble
Director, Actuarial Science Program
University of Connecticut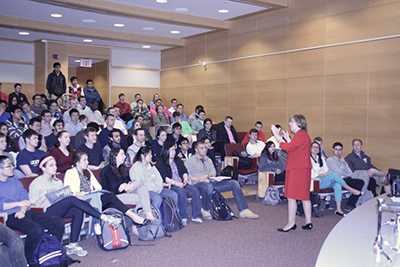 Pat Teufel, FCAS, UConn Adjunct Professor and Past President of the CAS discusses the opportunities awaiting Property and Casualty actuaries with a standing room only crowd of UConn students.