CAS News
Membership / Notices to Members
Take the Pledge: Becoming an Actuary of the Future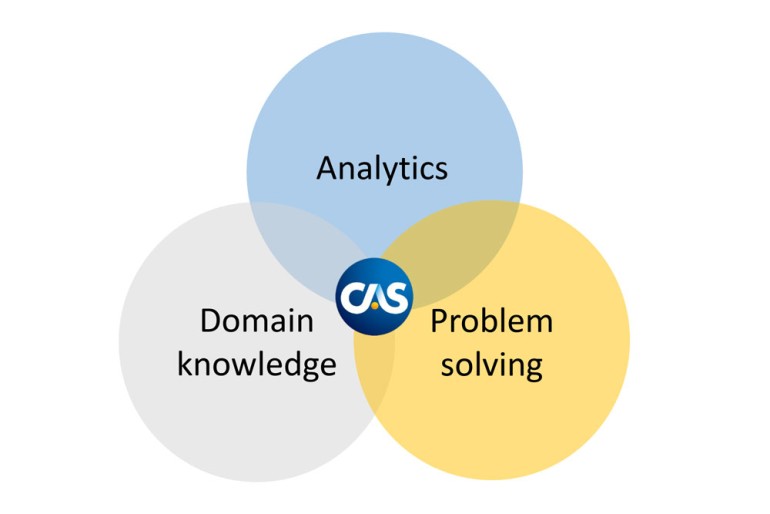 Dear CAS Members:
As we approach one year since my Presidential Address given at the 2021 CAS Annual Meeting, I am renewing my call for members to pledge to be the "Actuary of the Future." What do I mean by that?
The CAS Strategic Plan's Envisioned Future foresees that:
CAS members are sought after globally for their insights and ability to apply analytics to solve insurance and risk management problems.
The Envisioned Future articulates what I mean by the "Actuary of the Future" – an actuary who solves new problems by thinking differently, interacting with new business partners and bringing value to their organizations.
The "Actuary of the Future" has three skillsets:
Analytics, to tackle the important insurance and risk management problems in our data-rich world.
Problem solving, built upon strong strategic thinking and communication skills.
Domain knowledge, specifically property and casualty insurance and risk management.
The professionals in the middle of this Venn diagram are CAS members, who possess not only an incredible depth of domain knowledge but also creative abilities to get from data to insights to impact.
The CAS Strategic Plan includes a road map for moving members towards the Envisioned Future, with a focus on building skills for the future. For example, the 2022 CAS Annual Meeting will offer a variety of sessions focused on preparing attendees to upskill in the areas of analytics, problem solving and domain knowledge. The meeting will also include a session specifically focused on the "Actuary of the Future."
Actuaries of the future must invest in their own skills and development to successfully deliver on new marketplace challenges. And then must seek out opportunities to challenge themselves, their teams and their companies.
We are compiling a list of members who are committed to being an actuary of the future and demonstrating that by solving a new business problem in the coming year. We will be keeping in touch with those who make the pledge to collect your success stories and hope to share those as inspirational case studies for other members and candidates.
Do you want to be the actuary of the future, and help advance the CAS and actuarial profession?
If you do, then be proactive and make the pledge!
Take the Actuary of the Future Pledge
Sincerely,
Jessica Leong, FCAS, Chair, CAS Board of Directors
---
Read more about becoming an "Actuary of the Future"
Do You Want to Be the Actuary of the Future?, by Jessica Leong, FCAS, Chair, CAS Board of Directors, January-February 2022 Actuarial Review
Take the Pledge: Becoming an Actuary of the Future, by Jack Richards, Candidate AWG Candidate Representative and Wes Griffiths, FCAS, June 2022 Future Fellows