Membership / Notices to Members
Professional Education
A Sea Turtle, a Penguin and a Seal Walk Into a Dinner…at the CAS Spring Meeting!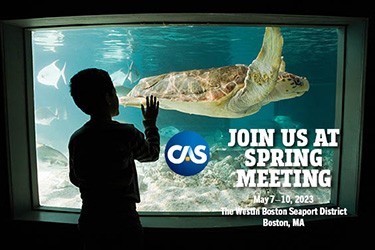 Enjoy an unforgettable dinner with fellow Spring Meeting attendees set against a backdrop of ocean animals and a scenic view of Boston Harbor! The CAS is excited to announce that our Tuesday night dinner will be hosted at the New England Aquarium! During this special event, you will have the opportunity to privately view first-class exhibits featuring animals from around the world and mingle with fellow members as penguins, sea turtles and thousands of tropical fish swim beside you. Inside, the four-story Giant Ocean Tank creates a fascinating centerpiece for the evening.
Don't miss your chance to enjoy this one-of-a-kind experience. Discover more about the aquarium after you register for the Spring Meeting.