CAS News
Membership / Notices to Members
Results of 2022 CAS Election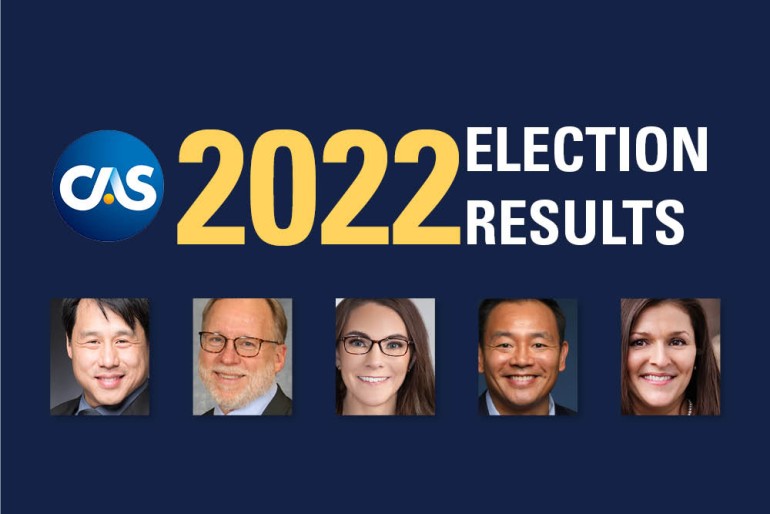 Dear CAS Members:
Balloting for the 2022 CAS election has closed and all candidates have been contacted regarding the results.
Frank Chang has been elected President-Elect.
Steve Belden, Julie Lederer, Len Llaguno, and Amber Rohde have been elected to the Board of Directors.
According to the election procedures approved by the Board, all vote counts are released to the membership. These follow:
President-Elect
Frank Chang
2,305
Director
Amber Rohde
1,656
Julie Lederer
1,558
Len Llaguno
1,507
Steve Belden
1,385
Alan M. Hines
1,382
Carolyn 'Coe' Bergh
1,321
John Gleba
1,241
David Skurnick
1,190
A total of 3,070 voting members cast ballots (37%), as compared to 2,924 voting members last year (37.9%). Thank you to all of the members who cast ballots in this year's elections.
The 2022 CAS elections offered a diverse set of candidates expressing a variety of perspectives on where the CAS should focus its strategic direction. As I wrote in my most recent Actuarial Review President's Message, the CAS has a representative form of governance – Board members are elected to lead and make decisions that it feels are best for the organization. The voting members choose the Board, which in turn represents the members.
I am excited to congratulate and welcome our new Board members, who are all committed to doing what they believe is in the best interests of the CAS and actuarial profession.
The elections generated much discussion and debate among our members about the future of the CAS. As we look to that future, there are many areas that will require us to work together to move the CAS forward. In doing that, I'd like to remind our community that:
Professionalism is at the heart of the CAS and actuarial profession. All members are entitled to their own opinions, but it is imperative that those opinions be expressed in professional and respectful ways. We must always remain committed to professionalism.
The current CAS Board has recognized the need for more transparency in its work, and understands that certain past issues did not provide the level of transparency that CAS members deserve. Even well before the elections, the Board has taken steps to increase transparency, and you will see more examples of that in the future.
Our Strategic Plan goals are bold, and we will achieve them much more efficiently and effectively as a unified and focused organization.
As I conclude my term as CAS President over the next two months, I am already looking forward to leading our incoming Board of Directors as Chair when it convenes in November. I encourage you to join me in committing to working together collegially as we aggressively pursue the opportunities that will drive us towards achieving our envisioned future.
In closing, congratulations again to the new President-Elect and Board members, and thank you to all of the candidates in the 2022 elections for their willingness to serve the CAS.
Sincerely,
Kathy Antonello, FCAS
CAS President