Event Updates
Membership / Notices to Members
Professional Education
Registration Opens for 2021 Virtual Spring Meeting (May 24-27, 2021)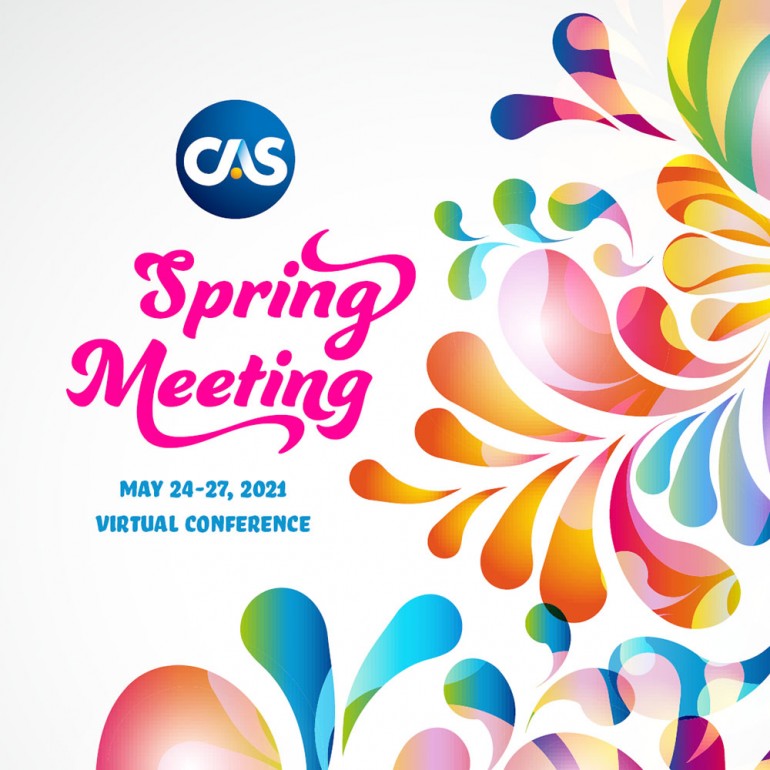 This virtual meeting has opportunities for education, networking and meeting with exhibitors, all in an immersive environment designed to make you feel like you are at an in-person meeting. This event requires no travel, no additional expenses and can be experienced from the convenience of your own desk.
The Annual and Spring Meeting Planning Committee is putting on this four-day event with:
Featured Speaker Cheryl Cran, addressing The Future of Work
Four General Sessions
32 Concurrent Sessions
Virtual Celebration of New Members (Monday) - Separate registration not required
Virtual Town Hall (Monday) - Separate registration required
Attendee Boxes – The first 100 U.S. Residents that register by April 9 will receive in the mail an attendee box with snacks, CAS branded items and sponsored giveaways.
Exhibit Hour – On Monday, May 24, the platform will be open to all attendees from 1:30 PM -2:30 PM ET to allow dedicated time to interact with exhibitors and explore the opportunities they have to offer.
For the educational sessions taking place Tuesday–Thursday, you can register for one day, two or all three days at a discount. We have scheduled breaks and exhibit time to allow for interaction with other attendees and exhibitors, or for time to take care of your own work.
Virtual Spring Meeting Features
Lobby – This virtual hall will be your hub to all aspects of the event, including:
Theater – Sessions will take place in a webinar-like theater
Exhibit Hall – Connect with virtual exhibitors, learn about the services and products they have to offer, chat one-on-one with company reps, and win a prize in the exhibitor raffle
Lounge – Network with other attendees at the virtual seminar, chat about specific topics or give your impressions of the sessions
Resources – Download presentation materials for you to use in your work
Help Desk – Get all your technical support questions answered at the staffed help desk
Find registration info and more here: https://www.casact.org/event/2021-virtual-spring-meeting