CAS News
Membership / Notices to Members
University Programs
CAS Hosts First Ever Virtual Multi-School Case Competition
The CAS recently hosted its first virtual Multi-School Case Competition! Over the years, the CAS's Case Competition Task Force has developed a series of case competition toolkits that have been utilized by universities and partner organizations. With the newly widespread familiarity and effectiveness of remote and virtual collaboration, the CAS decided to leverage these online tools to make the CAS case competition experience accessible to a broader range of aspiring actuarial students.
Over the course of several months, CAS staff and volunteers worked closely to plan a seamless and comprehensive event. CAS University Liaisons helped identify schools that had not previously hosted a CAS case competition. In total, five teams across four universities signed up to participate in the competition:
Baruch College (two teams)
Brooklyn College
Roosevelt College
University of Manitoba
Throughout the span of two weeks, the teams worked on a phone warranty case. A kick-off introducing the case and townhall Q&A were held the first week. Participants were then given access to a CAS volunteer team advisor who watched them practice their presentation and offered feedback to prepare them for the event day. The event culminated with the online case competition presentations and an award ceremony designating the 1st place prize of $2,000 to Baruch College Team 1, 2nd place prize of $1,500 to University of Manitoba, and 3rd place to Roosevelt College with a prize of $1,000.
Congratulations to our inaugural winners:
Image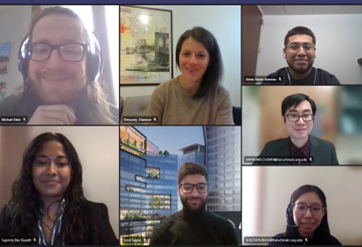 1st Place- Baruch College Team 1
Alexis Marin-Jimenez
Shuzhen(Susan) Deng
Raymond Chen
Suporna Das
2nd Place- University of Manitoba
Image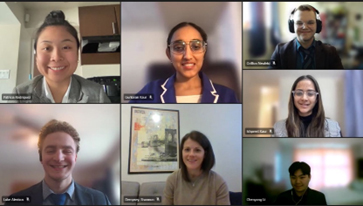 Chenyang Li
Gurkaran Kaur
Griffon Neufeld
Ishpreet Kaur
Luke Alevizos
Patricia Rodriguez
3rd Place- Roosevelt College
Image
The CAS would also like to sincerely thank all of the volunteers that were involved in the event:
Case Competition Task Force:
Courtney Rohde, FCAS (chair)
Charles Zhu, FCAS
Lee Bowron, ACAS
Yabing Yang, ACAS
Case Competition Judges
Michael Etkin
Shannon Dempsey, ACAS
Sonil Tappia
Team Advisors
Joshua Collier, ACAS
Kyle Bartee, ACAS
Vijay Persaud, ACAS
Townhall Advisor
Want to Hold Your Own Case Competition?
The CAS and Case Competition Task Force have recently completed a revamp of our five case competition toolkits on the topics of predictive modeling, data visualization, workers' compensation reserving, auto safety features and warranties. Each toolkit offers a full set of materials to run the competition including a case study, introductory presentation, data workbook and templates, including rubric and grading sheets for judges and award certificates. For more information, please contact CAS University Engagement Manager Margaret Kerr at mkerr@casact.org.