CAS News
Membership / Notices to Members
Apply for the 2023-2024 CAS Trust Scholarship!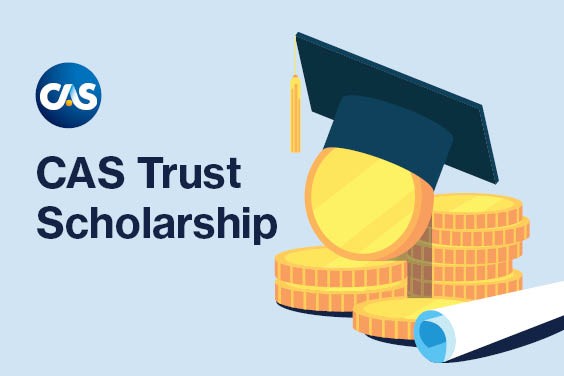 The Casualty Actuarial Society is excited to announce that applications are officially being accepted for its scholarship program for college students pursuing a career in actuarial science! The CAS Trust Scholarship Program, funded by donations to the CAS Trust, will award scholarships in the amount of $5,000 and $2,500 to deserving students for the 2023-2024 academic year.
To apply online, please visit the CAS Trust Scholarship Program website.
Applicant Eligibility Requirements:
Submit all sections of the CAS Trust Scholarship application by January 31, 2023.
Be currently attending college or university as a full-time student and continuing as a full-time student in the 2023-2024 academic year.
Have sat for at least one actuarial exam by March 31, 2023.
Be a member of CAS Student Central.
Application Details:
The online CAS Trust Scholarship application and attached essay.
The two recommendation letters included in this application, preferably completed by individuals with whom you have a direct relationship and can provide insights into your potential as a future actuary. Separate letters must be submitted and accompanied by the recommendation forms included. Only two recommendation letters will be considered.
A current official transcript. Indicate whether the academic term is a semester, trimester, or quarter. If the current transcript shows grades for only one academic term, then also provide the official transcript from your prior educational institution.
Please upload your official transcripts directly to the CAS Trust Scholarship application.
If you have questions or need more information, contact:
CAS Trust Scholarship Manager at CASstudentcentral@casact.org.
Completed applications are due by January 31, 2023. Winners will be notified of award decisions by May 31, 2023.
About CAS Student Central: CAS Student Central is a membership program for university students interested in pursuing an actuarial career. Join the community of nearly 8,000 students from over 600 universities who have already joined this free membership program and gain access to career resources, study tools and more!