Event Updates
Membership / Notices to Members
Professional Education
Announcing the CAS Actuary of the Future Speaker Series
The CAS Strategic Plan's Envisioned Future foresees that:
CAS members are sought after globally for their insights and ability to apply analytics to solve insurance and risk management problems.
The CAS Actuary of the Future Speaker Series features CAS members who represent that future - actuaries who have solved big problems faced by their employers or principals by thinking boldly and creatively applying their actuarial skills, while collaborating with other stakeholders. Ultimately, these actuaries brought value to their organizations in ways that haven't been done before.
Join us for a series of complimentary one-hour webinars for CAS members and candidates presented by an Actuary of the Future. Our schedule kicks off on July 25, 12:00 p.m. ET and features Alessa Quane, FCAS, Executive Vice President and Chief Insurance Officer at Oscar Health.
The webinars will be conducted over GoToWebinar and limited to the first 450 registrants. The link to enter the webinar will be sent two hours prior to the webinar start time. Please make sure to test your system. If you have any questions, please contact the CAS Administrative and Customer Support (ACS) team at ACS@casact.org.
Save the Date!
Save the Date for future webinars in the series, scheduled for
About Our Speaker: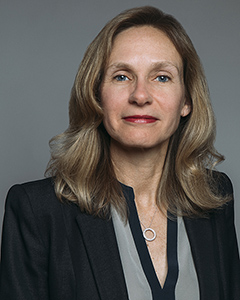 Alessandrea (Alessa) Quane is the Executive Vice President, Chief Insurance Officer at Oscar Health Insurance. She oversees the Individual, Small Group and Medicare Advantage businesses serving over 1M members.
Alessa has over 30 years experience in both the domestic and international insurance markets across Property Casualty and Life and Health. Prior to Oscar, she served as Executive Vice President, Chief Risk Officer for AIG as well as Chief Corporate Actuary, Head of Global Actuarial and Value Management, and Chief Risk Officer of AIG Property Casualty during her 25 year tenure at the firm. Prior to AIG, Alessa specialized in pricing and research for non-standard auto at Allstate.
Alessa is a member of the Board of Directors of AxaXL, a member of the Drake University School of Actuarial Science and Risk Management Advisory Council and the Global Association of Risk Professionals Board of Trustees and past chair of the North American CRO Council. She is a Fellow of the Casualty Actuarial Society and a member of the American Academy of Actuaries. Alessa holds a Bachelor of Science degree in Business Administration with a major in Actuarial Science from Drake University. She was honored in 2019 with the Stuart A. Klugman Distinguished Alumni Award from Drake University for her achievements as an actuary and chief risk officer, her professional engagement and community involvement.