Event Details
-
500 Canal Street
New Orleans, Louisiana 70130 USA
About This Event
The Casualty Actuarial Society 2022 Ratemaking, Product and Modeling Seminar gives property-casualty insurance actuaries and consultants the opportunity to earn continuing education credits in a variety of sessions covering relevant and timely topics necessary for continued professional growth and maintaining actuarial credentials. This event will provide a forum for professionals to stay current on topics related to the following tracks:
Ratemaking
Product Management/Innovation
Modeling
Professionalism/Regulation
This year the CAS will host its 2022 RPM Seminar and Workshops as a hybrid event – with both in-person and virtual elements, March 14 – 16, 2022, at the Sheraton New Orleans Hotel in New Orleans, Louisiana.
This meeting has opportunities for education, networking, and meeting with exhibitors.
The RPM Working Group is offering this three-day event with:
Featured Speaker, Jennifer Golbeck
Three General Sessions
35 Concurrent Sessions
In-Person Event Features
Engage with other attendees in specially designed networking activities
Engage with speakers and other attendees in specially designed, highly interactive sessions
Engage with sponsors and other attendees at receptions and meal functions
Access to all educational sessions and roundtables, up to 15 hours of CE, over three days
Virtual Event Features
Engage via chat with speakers and other attendees at livestreamed sessions
Access to select livestreamed sessions, with up to 7.8 hours of CE
You may register for the full two-day program (Tuesday-Wednesday), or each of the two days individually.
Attendees will have ample networking opportunities to renew and expand their list of industry contacts, and exhibitors will be on hand to demonstrate their relevant services and knowledge – all with the lively backdrop New Orleans, Louisiana has to offer.
The CAS is committed to following all local health guidelines to protect the health and safety of attendees. Therefore, space will be limited, and a sellout is expected, so hopeful attendees are encouraged to register early to secure their spot.
Event information
Casualty Actuarial Society's Envisioned Future (From the CAS Strategic Plan)
The CAS will be recognized globally as the premier organization in advancing the practice and application of casualty actuarial science and educating professionals in general insurance, including property-casualty and similar risk exposure. 
Continuing Education Credits 
The CAS Continuing Education Policy applies to all ACAS and FCAS members who provide actuarial services. Actuarial services are defined in the CAS Code of Professional Conduct as "professional services provided to a Principal by an individual acting in the capacity of an actuary. Such services include the rendering of advice, recommendations, findings or opinions based upon actuarial considerations." Members who are or could be subject to the continuing education requirements of a national actuarial organization can meet the requirements of the CAS Continuing Education Policy by satisfying the continuing education requirements established by a national actuarial organization recognized by the Policy. 
This activity may qualify for up to 15 CE credits for the Ratemaking, Product and Modeling Seminar for CAS members. Participants should claim credit commensurate with the extent of their participation in the activity. CAS members earn 1 CE credit per 50 minutes of educational session time, not to include breaks or lunch. 
Note: The amount of CE credit that can be earned for participating in this activity must be assessed by the individual attendee. It also may be different for individuals who are subject to the requirements of organizations other than the American Academy of Actuaries. 
Consent to Use of Photographic Images 
Registration and attendance at or participation in CAS meetings, seminars and other activities constitutes an agreement by the registrant to the CAS's use and distribution (both now and in the future) of the registrant or attendee's image or voice in photographs, videotapes, electronic reproduction and audiotapes of such events and activities. 
Meeting Recordings 
Following the meeting, select sessions from the 2022 Ratemaking, Product and Modeling Seminar will be recorded and available to meeting attendees complimentary. Livestream attendees will receive the livestream recordings complimentary and the full event recordings at a discount. 
Suggested Attire 
Business casual attire is suggested for the conference sessions and receptions. It is best to wear layered clothing as meeting rooms tend to fluctuate in temperature. 
In New Orleans, the average high temperature during March is 73º F /23º C and the average low is 54º F / 12º C. 
U.S. VISA INFORMATION
We highly recommend reviewing the U.S. Department of State website for the most up-to-date guidelines for foreign nationals (not a U.S. citizen). Depending on your country of origin, your visa application could take several months to schedule and process, so please plan accordingly
For conference attendees: 
A foreign national traveling to the United States to conduct temporary business needs a visitor visa (B-1) unless qualifying for entry under the Visa Waiver Program. 
https://travel.state.gov/content/travel/en/us-visas/business.html 
For family members: 
A foreign national traveling to the United States for tourism needs a visitor visa (B-2) unless qualifying for entry under the Visa Waiver Program. Tourism is a short visit for vacation, for visiting family and friends, or for medical treatment. 
https://travel.state.gov/content/travel/en/us-visas/tourism-visit.html 
If you need a letter confirming your registration at the 2022 Ratemaking, Product and Modeling Seminar for the purposes of a visa application, please contact lwieczorek@casact.org.  
CONTACT INFORMATION ;
For more information on Ratemaking, Product and Modeling Seminar content, please contact Kellee Jenkins, RPM Seminar Staff Chair, at kjenkins@casact.org. 
For more information on attendee registration, please email arc@casact.org.
For more information on the RPM Seminar other than registration or content issues, please email meetings@casact.org.
For more information on other CAS opportunities or administrative policies such as complaints and refunds, please contact the CAS Office at (703) 276-3100 or visit the CAS website.
Registration information
Registration Fees
The CAS RPM Seminar will be held March 14 - 16, 2022 at the Sheraton New Orleans Hotel. The fee is $1,110 for CAS Members, Affiliates, Subscribers, and Active Candidates*. The registration fee includes educational sessions, two continental breakfasts, refreshment breaks, a Welcome Reception on Monday and Tuesday reception.
NOTE: The Workshops are an additional fee and are not part of the Seminar fee. For the 2022 RPM Seminar Livestreaming (virtual attendance only) experience, please see the webpage dedicated to that separate registration process.
*An Active Candidate is a non-CAS member who has attempted at least one actuarial exam in the last two years.
Early Registration
We encourage you to register early for the RPM Seminar. Please note that while there is limited space at this year's RPM Seminar, CAS will work to accommodate as many meeting registrants as is safe to do so. The CAS reserves the right to limit the number of participants.
2022 RPM SEMINAR REG TYPE
EARLY REG. FEE
BY FEB. 15, 2022
LATE REG. FEE
AFTER FEB. 15, 2022
CAS Member, Subscriber, iCAS Member, and Active Candidate*
$1,100
$1,300
CAS Member, Government Employee
$550
-
CAS Member Speaker

 

$825
-
Non-CAS Member
$1,300
$1,500
Non-CAS Member, Government Employee
$650
-
Non-CAS Member Speaker
$0
 
2022 RPM WORKSHOP REG TYPE
EARLY REG. FEE
BY FEB. 15, 2022
LATE REG. FEE
AFTER FEB. 15, 2022
Workshop with Seminar<
$775
$875
Workshop Only (No Seminar Registration)
$975
$1,075
Please Note: Fees will be refunded for cancellations received in writing at the CAS office by March 7, 2022, less a $100 processing fee.
* An Active Candidate is a non-CAS member who has attempted at least one actuarial exam in the last two years.
Note Regarding Fees
All attendee registration fees will increase by $200 if the registration is received after February 15, 2022. The CAS will send confirmations to all registrants prior to the meeting.
Cancellation Policy
CAS RPM Seminar registration fees will be refunded for cancellations received by the CAS Office on or before March 7, 2022, less a $100 processing fee. Only written cancellations will be honored. Please send cancellation requests via email to refund@casact.org. In the rare event that a CAS meeting is canceled, participants receive a full refund for registration fees paid; travel and transportation costs are the responsibility of the attendee.
Planning committee
Eric Krafcheck, Volunteer Chair
Richard (Jamie) Mills, Volunteer Vice-Chair
Rebecca Williams, Volunteer Vice-Chair
Kellee Jenkins, Staff Co-Chair
Nora Potter, Staff Co-Chair
Leanne Wieczorek, Staff Co-Chair
Daniel Blau
Brian Choi
Denise Christophel
Mario DiCaro
Dustin Duncan
David Elkins
Stuart Gelbwasser
Michael Hall
Donald Hendriks
Po Hu
Joyce Hwu
Kathleen Knudson
Howard Kunst
Victoria Marciano
Jay Rosen
Eric Schmidt
Klayton Southwood
Patrick Stapleton
Xiaowei (Michelle) Sun
Peter Tomopoulos
Gaetan Veilleux
Gary Wang
Jianqi (Kiki) Wang
Kimberley Ward
James (Jim) Weiss
Xingzhi (Shing) Wu
Lin Xing
Richard Zarik
Lijuan Zhang
Zhao (William) Zhou
Lodging
The 2022 CAS RPM Seminar will be held at:
500 Canal Street
New Orleans, Louisiana 70130 USA
San Diego, California 92101 USA
Main Phone: +1-540-525-2500
Immerse yourself in style at our French Quarter hotel:
Brimming with style and grounded in our community, Sheraton New Orleans Hotel is the perfect home base for your downtown escape. Located on Canal Street, our hotel is steps from the buzz of the French Quarter, and also offers seamless access to notable NOLA points of interest including the Ernest N. Morial Convention Center, Caesars Superdome and Smoothie King Center. Relax in our refined guest rooms and suites, which boast plush bedding, spacious work areas, modern technology and floor-to-ceiling windows overlooking the French Quarter and the Mississippi River. Join us for live jazz music every weekend at Jazz at the Blue Dog in Rodrigue Gallery or reboot in our fully equipped Sheraton Fitness Center. Kickstart your day in New Orleans at Starbucks® in our atrium lobby or wind down with refreshing cocktails and local cuisine at Pelican Bar. A leading meeting and events destination in downtown New Orleans, our hotel features 105,000 square feet of flexible venue space, including several expansive ballrooms.
Group Room Rate:
Room Rate: $209 for single/double room, plus taxes. A limited number of rooms have been reserved for Sunday, Monday, and Tuesday nights. The hotel will also reserve rooms three days prior and post CAS meeting dates, if available. In-room, high-speed internet access is complimentary for all Marriott Bonvoy members, and there is no membership fee.
Reservations must be made by Monday, February 14, 2022.  Check in at the Sheraton New Orleans Hotel is 4:00 p.m. and check out is by 11:00 a.m.
How to Reserve:
Reservations may be made online or via telephone or via email:
For online reservations, visitt https://book.passkey.com/e/50263594
For telephone reservations, call toll-free 888-627-7033, or the hotel directly at 540-525-2500, and reference "the CAS 2022 Ratemaking Product and Modeling (RPM) Seminar".
While reservations must be made prior to Monday, February 14, 2022, to receive the negotiated rates, there is no guarantee that rooms will be available should you wait until this date. CAS strongly suggests that you make your room reservations early to secure accommodations before the room block fills.
Additional Lodging and Locale Information:
For more information on the hotel or the New Orleans area, please visit eitherwww.sheratonneworleans.com or https://www.neworleans.com/respectively.
Important Information Regarding Official Annual Meeting Hotel:
The Casualty Actuarial Society can conduct high-quality meetings at desirable sites for a reasonable registration fee because a block of hotel rooms is reserved for meeting attendees. In exchange for filling the required number of sleeping rooms, the CAS is permitted to use the hotel's meeting space at no cost, thus keeping registration fees low. In addition, meeting attendees receive a reduced rate for their sleeping rooms. We kindly request that all meeting attendees take advantage of the group rate and stay at the official RPM Seminar property, Sheraton New Orleans Hotel.
Featured speakers
Image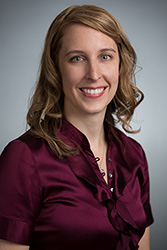 Jennifer Golbeck
Dr. Jennifer Golbeck is a computer scientist, Director of the Social Intelligence Lab, and a professor in the College of Information Studies at the University of Maryland, College Park.
Her research focuses on analyzing and computing with social media and creating usable privacy and security systems.
She writes for Slate and The Atlantic and frequently appears on NPR, including as a regular guest host for The Kojo Nnamdi Show.
Her TED talk was named one of the most powerful talks of 2014. She received a Bachelor of Arts degree in Economics, a Bachelor of Science degree, a Master of Science degree in Computer Science at the University of Chicago, and a Doctor of Philosophy degree in Computer Science from the University of Maryland, College Park.
Sponsors
Sponsorship Opportunities
The 2022 Ratemaking, Product and Modeling Seminar is a CAS signature event, offering a broad range of sessions on the most important issues facing the property-casualty insurance industry today. Attendees include a strong contingent of senior members of the actuarial profession and new designees who are celebrated throughout the meeting. The RPM Seminar provides a variety of sponsorship opportunities at various levels, including tabletop exhibits, where you can gain exposure for your products and services among approximately 700 attendees.
If you are interested in sponsoring or exhibiting at the RPM Seminar, please contact Mike Boa by email at mboa@casact.org.
Schedule
Monday, March 14

8:00 AM - 6:00 PM

Workshop Day

8:00 AM - 2:00 PM

Workshop Registration

8:00 AM - 9:00 AM

Workshop Breakfast

8:00 AM - 5:00 PM

iCAS Workshop

9:00 AM - 5:00 PM

Full Day of Workshops

3:00 PM - 6:00 PM

Seminar Registration

5:00 PM - 6:00 PM

Welcome Reception with Exhibits

Tuesday, March 15

7:00 AM - 7:45 AM

Continental Breakfast

7:00 AM - 6:30 PM

Seminar Registration

7:00 AM - 7:45 AM

Roundtables

8:00 AM - 9:15 AM

Concurrent Sessions 1

8:30 AM - 3:00 PM

Student Program

9:15 AM - 9:45 AM

Refreshment Break

9:45 AM - 11:30 AM

Opening Session/Keynote Address

11:30 AM - 12:30 PM

Luncheon

12:30 PM - 1:45 PM

Concurrent Sessions 2

1:45 PM - 2:15 PM

Networking Break with Exhibits

2:15 PM - 3:30 PM

Concurrent Sessions 3

3:30 PM - 4:00 PM

Networking/Refreshment Break with Exhibits

4:00 PM - 5:15 PM

Concurrent Sessions 4

5:15 PM - 6:45 PM

Reception with Exhibits

Wednesday, March 16

7:00 AM - 8:00 AM

Continental Breakfast

7:00 AM - 2:00 PM

Seminar Registration

8:00 AM - 9:15 AM

Concurrent Sessions 5

9:15 AM - 9:30 AM

Networking/Transition Break

9:30 AM - 10:45 AM

Concurrent Sessions 6

10:45 AM - 11:15 AM

Networking/Refreshment Break with Exhibits

11:15 AM - 12:30 PM

General Session/Closing

12:30 PM - 1:15 PM

Box Lunch with Exhibits

1:15 PM - 2:30 PM

Concurrent Sessions 7